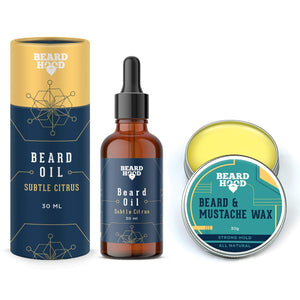 Why so unique?
Subtle citrus beard oil promotes beard health while beard and moustache wax helps style your beard. Beard and Moustache wax and beard oil work together to provide a long-lasting stronghold and frizz control that lets you ensure that every hair is precisely in place every single time.
What this combo includes?
Subtle Citrus
Beard & Moustache Wax
List of full ingredients
Subtle citrus - Jojoba oil, argan oil, rice bran oil, olive oil, vitamin e, and other essential oils.
Beard & Moustache Wax - Canauba wax, shea butter, pine sap, unrefined coconut oil, avocado oil, vitamin E, patchouli oil.
How to use
FAQs
This is useful for head hair also?
+
Yes you can use the Beard Growth Oil for head hair too.
Is this 100% vegetarian without any animal extracts?
+
Yes, Beardhood Beard Growth Oil is 100% vegetarian with natural plant extracts.
How long should I keep using it and how long does one bottle go?
+
You can continue using the oil as it is all-natural. The bottle is sufficient for 1.5-2 months of use
Is it suitable for sensitive hair?
+
Yes, we only use natural ingredients which make this oil perfect for all hair types.
How does it provide a fresh look to a man's beard?
+
This provides nourishment to beard while wax keeps up the style, giving an entirely fresh look to a man's beard.
Legal Metrology
Product Name: Beardhood Subtle Citrus Beard Oil (30ml) & 100% Natural Mustache Wax Strong Hold (30g)
Country of Origin: India
Customer care Number: 8800190489 (customer care executive)
Marketed By: Alphanso Products Pvt. Ltd.(E-359, First Floor, Nirman Vihar, Delhi-110092)
Manufactured By: Adorn Naturals (B-18/5, Second Floor, Jhilmil Industrial Area, Delhi-110095)
Mfg Lic no. E(0522)/21/CM
The MRP Rs. 750.00 /- selling price mentioned on products / listing is inclusive of all taxes.
The quantity (gm/ml) of the product is mentioned on the label/box.
Free Shipping On Prepaid Orders*
Quality Products
Online Support