5 Everyday Essentials for Your Personal Care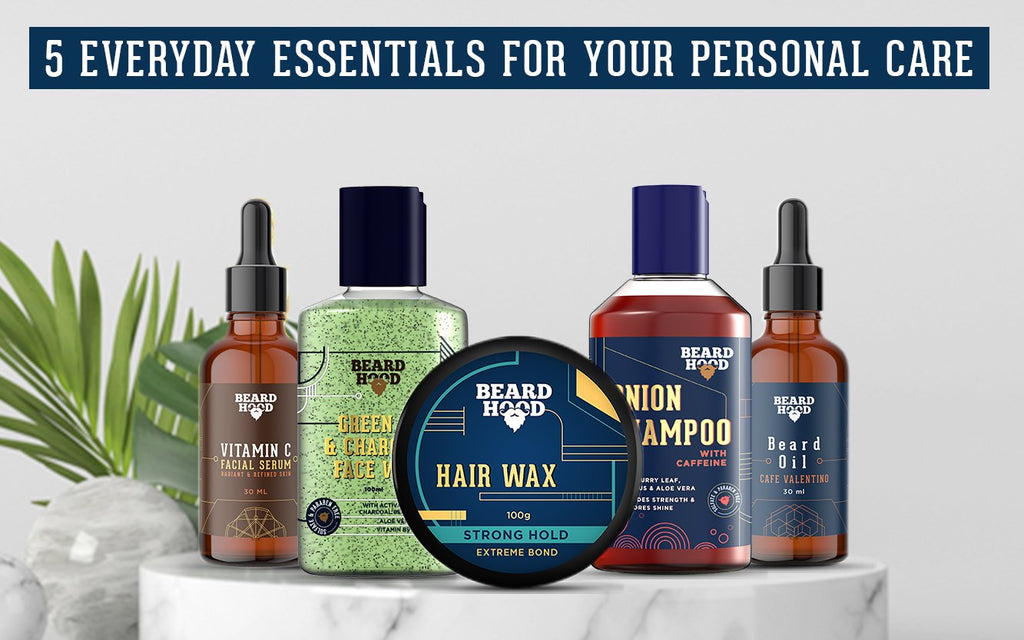 If you've been skipping out on routine care, it's time to have 'the talk' and pay attention to your body's essential needs. We understand that for many of you, grooming is not just a daily regimen, it's an adaptive mode of personal expression.
That's why, we're here to guide you on how to combat shaving irritations, and those fine lines that keep popping out of nowhere. You don't have to flex many muscles, just follow these basic customizations for ever-lasting results.
Plus, a little glow on the outside wouldn't hurt! Here's how to get started.
Green Tea Face Wash:
This exotic face wash is a safe blend of aloe vera, vitamin B9, green tea, activated charcoal and everything that's good on your pocket and even better on your skin.  For optimum results, routine usage is recommended.
Benefits:
Aloe Vera & Vitamin B9 hydrates skin and improves moisture- retention.
Activated charcoal extracts excess oil and dirt from deep skin tissues, leaving behind an anti-acne and oil- free glow.
Caffeine, tannins and catechin, found in green tea are highly effective in treating puffy eyes, dark circles and work as an ageless tonic for a happy skin.


Vitamin C Serum:
Our skin takes quite a beating over time, thanks to free radicals causing oxidative stress, when exposed to pollution, chemicals and UV rays. But you don't have to worry anymore, as this ageless serum backed up by antioxidants is at your rescue. When used in combination with a moisturizer, the serum exhibits excellent absorption.
Benefits:
-  Vitamin C acts as an anti-ageing enchantment by stimulating production of collagen.
- It acts as afor wrinkles, fine lines and hyper-pigmentation, and leaves behind a soft plump skin.
- It refines skin texture and works wonder for dry, patchy or dull skin, around the neck, cheeks, or eyes.
- It acts as a natural defense against the ruthless plight of the environment and gives you a blemish- free healthy skin, inside out.


Beard Oil
Beard oil provides adept moisture replenishment and hydration not only to the hair but the skin beneath too. An itchy beard can be a real deal breaker, so you need a wingman who's always got your back with a good blend of carrier oils. When used twice a day, the oil deeply nourishes the skin, with a radiant glow.
Benefits:
It tames the wild, adamant hair on your beard and softens them to make it more manageable.
Oil extracts such as jojoba, rice bran and olives make this magical tonic a real artwork for dry and itchy beard.


Onion Hair Shampoo
The first ever onions that leave you with no tears, with a hint of reetha, hibiscus, shikakai, curry leaves, green tea and aloe vera makes this shampoo a preferred choice of our numerous customers/users. Customers using it in combination with the Beardhood Onion Oil have suggested these to be a perfect pair.
Benefits:
Using a combination of traditional and modern science,this formulation fights off dirt, dryness and protects the hair from heat damage, while nourishing your scalp to its very roots.
Onion and hibiscus revive blood circulation, and repairs the dead and frisky hair locks.
Curry leaves, in combination with aloe vera nurture the hair with gentle care and conditioning, that makes your hair velvety and supple.
Infused caffeine extracted from fresh Arabica & Robusta beans along with onion extracts prevents hair fall and potential skin infections.
Hair Wax - Extreme Bond
Enhance the movement in your locks, while keeping them secured. Toxin-free Beardhood hair wax that gives your hair a natural finish and texture.
Benefits:
While a stiff back brings you down, stiff hair adds a few more charms to your dapper look. Be it a classic or a bold choice, this hair wax keeps your style intact and scalp moisturized until the next wash.
This long-lasting formula is curated to make you look and feel great, no matter what the day throws your way.
It adds a natural matte finish to your tendrils and makes your hair look effortlessly perfect.
Now that the ice has been broken in the men's grooming space, Beardhood is ready to be your beard and best buddy. Knock off the lethal sloppiness, and feel brand new with the brand that's made just for you!