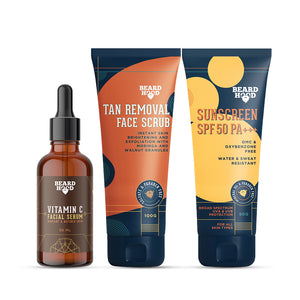 Why so unique?
Everyday life is no fun and might even feel draining sometimes which can reflect on the skin. Exposure to various environment aggressors such as pollution, UV rays, etc. can make you look dull all day long. This is why you need the Beardhood's Don't fear the sun Kit to revitalize your skin . This kit is all you need to give your skin a boost of hydration and antioxidants, thanks to the vitamin C in it. This basic 3 step routine kit is your chance to make your skin back to looking like its best , without much effort. It includes a tan removal face scrub for daily use, a vitamin C serum for glowing skin, and last but not least, a sunscreen for men and women. The experience of using this kit is definite to wake up the skin and give it a more radiant complexion.
What's in the kit?
SPF 50 sunscreen
Tan Removal Face Scrub
Vitamin C Face serum
List of full ingredients
Tan removal face scrub - Charcoal, Coffee bean, Granulated Walnut, Glycerin, Almond Oil, Water and Palmaria Extract, Ginol 16, , Natural Preservatives and Fragrance
Vitamin C Face serum - Purified Aqua, Aloevera Extract, Vitamin C (Sodium Ascorbyl Phosphate), Vitamin C (Magnesium Ascorbyl Phosphate), Hydroxy Ethylcellulose, Vegetal Hyaluronic Acid, Sodium Benzoate, Orange Peel Extract, ACB Mix Fruit Extract, Ginger Extract, Yellow Tangerine Oil, Mandarin Oil, Lemon Oil,Allantoin , Lemon Extract, Grape Seed Extract, Witch Hazel Water, Sodium Gluconate, Ethylhexyl Glycerin
SPF 50 Sunscreen - C 12-15 Alkyl Benzoate, Stearic Acid, Propylene Glycol, Candelila Wax, Carnauba Wax, Strawberry Extract, Raspberry Extract, Titanium Dioxide, Avobenzone, Octyl Salicylate, Zinc Oxide, Carrot Seed Extract, Octocrylene, Ceramide 3, Carbomer, Tocopherol, Sodium Hyaluronate, IFRA Certified Fragrance, Butylated Hydroxytoluene, Xanthan Gum
FAQs
What does this combo contain?
+
This kit includes Tan removal face scrub, vitamin c face serum, & SPF 50 sunscreen
Is this kit safe to use?
+
Good news! All our products are made from certified ingredients to ensure the best quality. They have vegan formulation and are free from toxins as well. However, we'd always recommend you to do a patch test before.
Reviews
Recommended
A complete great combo from Beardhood. Must try
Legal Metrology
Product Name: Vitamin C Serum, Tan Removal Scrub & Sunscreen Combo
Country of Origin: India
Customer care Number: 8800190489 (customer care executive)
Marketed By: Alphanso Products Pvt. Ltd.(E-359, First Floor, Nirman Vihar, Delhi-110092)
Manufactured By: Adorn Naturals (B-18/5, Second Floor, Jhilmil Industrial Area, Delhi-110095)
Mfg Lic no. E(0522)/21/CM
The MRP Rs. 1,200.00 /- selling price mentioned on products / listing is inclusive of all taxes.
The quantity (gm/ml) of the product is mentioned on the label/box.
Free Shipping On Prepaid Orders*
Quality Products
Online Support