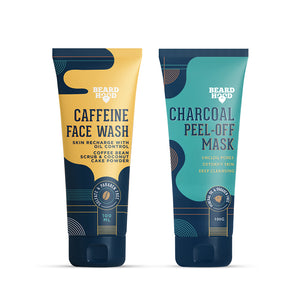 Why so unique?
Cleanse your face with Beardhood Face Wash and peel off mask combo that provides a superior clean without leaving skin feeling dry, tight or irritated. It is gentle enough for all skin types and protects skin's natural barrier, while removing 99% of dirt and oil gently with a deep pore cleaner, this activated black charcoal face mask helps remove impurities, blackheads and blemishes for toned, radiant skin. The ingenious formula is packed with vitamins, nutrients and extracts essential to your skin health.
Active Ingredients
Charcoal peel off mask
Caffeine facewash cleanser
List of full ingredients
Peel off mask - Aqua(water), Activated bamboo charcoal, tea tree leaf oil, Kaolin clay, Vitamin B9, Orange peel, Liqorice, Neem extracts.
Caffeine facewash - Purified Aqua, Refined Glycerine, Propylene Glycol, Cocamidopropyl Betaine, Sodium Lauroyl Methyl Isethionate, Coco Glucoside, Aloe Vera Extract, Caffeine extract, Coconut cake Extract, Orange Peel Extract, Sodium PCA, Zinc PCA, Panthenol, Allantoin, Ethylhexylglycerin, Phenoxyethanol, Lactic Acid, Sodium Gluconate
How To Use
FAQs
What does this combo contain?
+
This kit includes Charcoal Peel Off Mask & Caffeine Facewash.
Any side effects that I must be concerned about?
+
Good news! All our products are made from certified ingredients to ensure the best quality. They have vegan formulation and are free from toxins as well. However, we'd always recommend you to do a patch test before.
Does the Mask remove facial hair as well?
+
Yes, the mask might remove fine hair from your face. Keep in mind that the mask is meant to deep clean pores and remove dead skin cells and is not meant to be a substitute for waxing or any kind of hair removal method.
Is this combo suitable for sensitive skin?
+
Our products are carefully designed for all skin types, including sensitive ones. If you have sensitive skin, it would be best to do a quick patch test on your inner elbow 24 hours prior to applying the mask on your face. Discontinue use if irritation occurs. Better to be safe
Does this combo help clear acne?
+
Yes a regular use of this combo will keep acne causing bacteria's clear
Legal Metrology
Product Name: Caffeine Face Wash and Charcoal Peel Off Face Mask Combo
Country of Origin: India
Customer care Number: 8800190489 (customer care executive)
Marketed By: Alphanso Products Pvt. Ltd.(E-359, First Floor, Nirman Vihar, Delhi-110092)
Manufactured By: Adorn Naturals (B-18/5, Second Floor, Jhilmil Industrial Area, Delhi-110095)
Mfg Lic no. E(0522)/21/CM
The MRP Rs. 650.00 /- selling price mentioned on products / listing is inclusive of all taxes.
The quantity (gm/ml) of the product is mentioned on the label/box.
Free Shipping On Prepaid Orders*
Quality Products
Online Support